Bitcoin 2022: what did we learn in Miami?
Looking back at how far we've come. At the heart of the busy conference hall stood a replica of the Bitcoin 2022's volcano, a symbol of Bitcoin's forceful future and past. Since Bitcoin's launch in 2009, a lot has happened. But three things remain clear; this is a people's movement on reclaiming financial freedom, the conference has come of age and is here to stay. How do I know? Let me take you through the golden moments of Bitcoin 2022.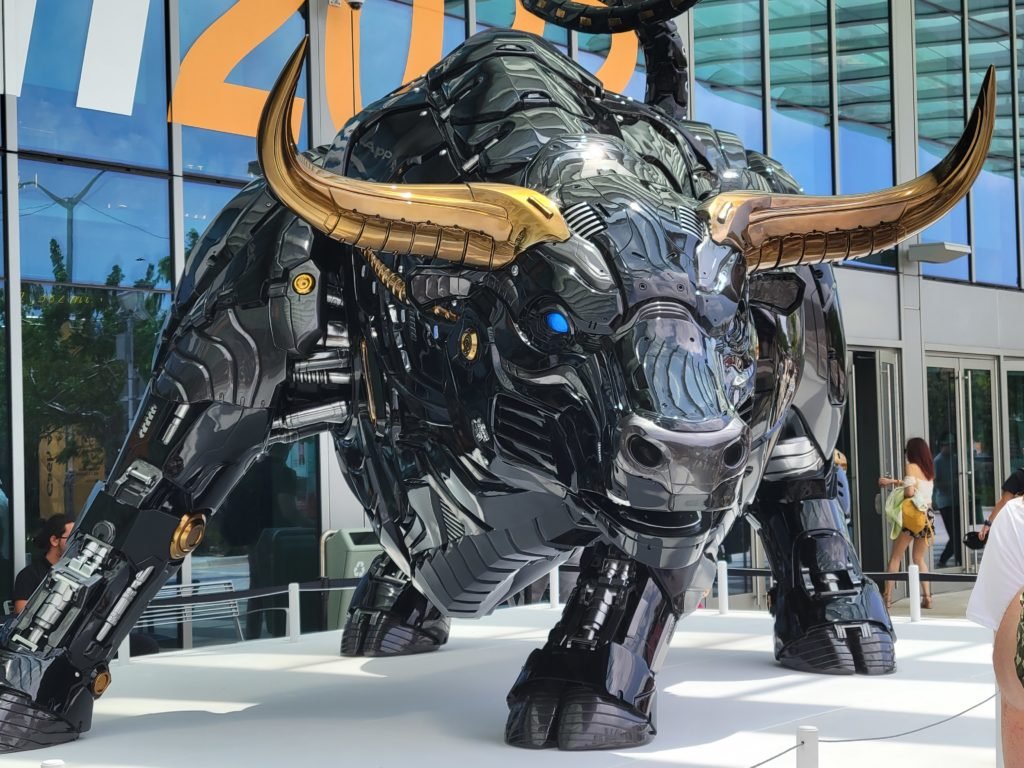 Bitcoin had its wall street moment
To kick-start the Bitcoin 2022 conference, a laser-eyed bull statue symbolizing Miami becoming the self-declared "world's capital of crypto" was unveiled by Mayor Francis Suarez. Although New York remains the financial center in the US, the so-called Magic City holds a future closely tied to bitcoin as many crypto companies pack up and move there. Although an underdog in the financial sphere, Miami saw more than $760 million in funding for blockchain startups in 2021. In 2022, Miami is now tied with Los Angeles and is slowly but surely winning trust as thousands of cryptocurrency enthusiasts gather annually.
Speed and cost in focus
Fortunate for the Lightning Network and all Bitcoin 2022 participants, adoption is on the rise and you could tell. Lightning network is solving bitcoins means of transactions not just in terms of speed but also in cost. At the conference, Jack Mallers, CEO of Strike, announced a partnership with Shopify, NCR, and the Blackhawk Network to enable Bitcoin transactions across the US in any grocery store or coffee shop. "Any online merchant that uses Shopify can accept payments without the 1949 boomer (credit card) network, receive it instantly, cash final, no intermediary, no 3% fee,".
Crypto exchange Robinhood also announced it had added support for the Lightning Network and pointed out that transaction fees on Bitcoin "are too damn high," and slowing down adoption drastically. With many talks focusing on the Lightning Network, I wanted to know what the buzz was all about. With the Exodus app, I instantly and with no delays treated myself to a t-shirt and fish tacos – to be able to actually pay with bitcoin can't be described as anything else but thrilling. But we need to see less fluctuations in Bitcoin before we achieve global adoption and it being fully implemented as an exchange of value at scale. Buying this cryptocurrency remains a fiddly, puzzling process for those who aren't technically minded, but it is getting easier.
A buzz around mining
Anyone visiting the conference could tell that mining for sure had its moment in the sun. Compared to last year, where mining was nowhere near as dissected, mining rocketed in interest at Bitcoin 2022 with a dedicated mining stage that hosted business leaders from across the mining industry. Many of the largest mining companies are scaling up at an increasingly fast tempo and some miners will have a tough time keeping up if they aren't extremely cost-competitive and using the most efficient and updated machines. Simply put, the most significant barrier to entry into the industry is know-how. From a personal perspective, I mostly enjoyed the discussions around home mining and how new services can make it easier for less tech-savvy people to adopt mining sustainably. Many hands shot up in the air as a moderator asked how many people had or were mining at home, let's just say it was a few…
Regulations in the US
If the adoption of Bitcoin in the Republic of El Salvador caused excitement around the world in 2021, Biden's executive order had laid the groundwork for a regulatory discussion at Bitcoin 2022. MicroStrategy chief Michael Saylor referenced the order as "the President of the United States giving the green light to Bitcoin," and Senator Cynthia Lummis swiftly picked up the baton at Bitcoin 2022 alongside Kraken Chief Legal Officer, Marco Santori. In the fireside chat, the senator shared details on the bipartisan bitcoin bill set out to propel Bitcoin innovation in the US and shared her perspective on how politicians view the potential of a Federal Reserve central bank digital currency – exciting things up ahead indeed! With an ever-growing critical mass of bitcoin users, the crypto space needs to be able to address the burning question of how to onboard the next generation of 100 million, 200 million, or a billion users?
She / they
Although diversity in crypto has a long way to go, the theme of broadening the diversity and representation of Bitcoin ownership was echoed throughout several panels. When the former Goldman Sachs banker and bitcoin evangelist Mike Novogratz took the stage for his firechat session, it wasn't just his prediction for Bitcoin adoption or its value up ahead that rang clear; it was the reference to Bitcoin's founder Satoshi Nakamoto as a woman, "she/they". In an industry that innovates at the speed of light, there are still plenty of opportunities for the women who are currently helping to shrink that gender and diversity gap. Mike's statement signals that the community recognizes women leading in bitcoin and that diversity in crypto is a matter of what is right for business.
Web 2.5: secure users and unleash crypto
Legislation and the cryptocurrency community have been increasingly at odds for some time now. To unlock millions of users and unleash crypto to the masses, we need to find ways of bridging banking with crypto. The first step in that direction is to facilitate and unlock global fiat rails in a secure and scalable way. Fiat Republic's API doesn't just aggregate crypto-friendly banks and bank payment schemes under a single API; it also allows you speed, with real-time deposits and withdrawal – allowing you to launch in days instead of months. We want you to focus on your business and we'll make sure you never have to worry about your treasury and deposits/withdrawal challenges.
Compliance first
With $1.1T yearly fiat-crypto volumes (coinmarketcap.com), the market is not slowing down and apart from serving a low code API, we are also providing a compliance first data architecture. The second step towards unleashing crypto is all about compliance, AML and providing full transparency and visibility into transactional history to get banks and regulators comfortable. Whether that's fiat on-ramp, crypto on-chain and fiat off-ramp – we got you covered.
A unified voice
Crypto platforms need reliable access to local and international bank payment rails to bring crypto to the mainstream. To streamline communications between banks, regulators and crypto platforms with the Fiat Republic consortium is the third and final step to unlocking crypto to the masses. A three-stage rocket to web2.5 🚀. The consortium is the unified voice, embracing regulations and tier 1 banks and holding industry representation among local regulators, associations and lobby groups (CryptoUK, GDF). We believe in access to a network of trusted crypto-friendly suppliers, law firms, compliance and recruitment consultancies, insurance brokers and more to foster deeper and wider business opportunities within the crypto industry and connect with consortium members across sectors.
Fiat Republic has set out to democratize fiat access for the Web3 economy – and we will make it happen!
Community is growing
In 2021, the intersection between crypto, games and the metaverse became more than just a pipe dream, DAO became mainstream and we lost track of the number of Dogecoin and Elon Musk retweets. Although the definition of crypto is still being formed, 2021 has seen the dawn of crypto markets boom with different sectors flourishing and the average citizen adopting bitcoin or other cryptocurrencies to their digital wallets. To a wide audience, bitcoin and cryptocurrencies are solely about money. But money and social issues are inseparable from a macro perspective and the idea of equal participation in an ecosystem that incentivizes positive partnership is just in Bitcoin's genetic code.
From where I stand, the community has spoken and there is simply no way back – the expectations for what lies ahead of 2022 and onwards are sky-high and my faith lies within the community.
More readable thoughts on the future of crypto from our CEO Adam Bialy: Partnership Rather than Conflict