Interview with Crypto UK: How crypto platforms can win the compliance race
A few weeks back, Fiat Republic released the Ebook: How Crypto Platforms Can Win the Fiat Strategy Race, where we explore the importance of designing a winning fiat strategy. We sat down with CryptoUK and Su Carpenter, Director of Operations, to discuss one of the key areas in the ebook, regulation and compliance, to understand how we can uplift compliance standards, build better relationships with governments and ultimately create trust with consumers and institutions.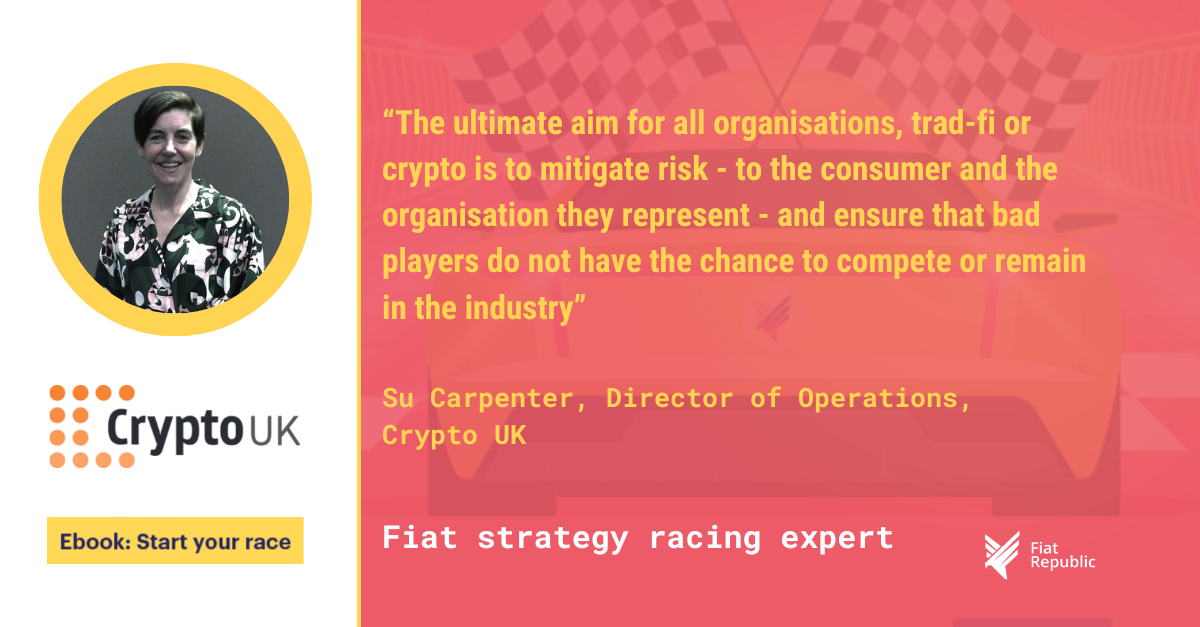 Hi Su, thanks for taking the time to sit down with us and share your expertise and the real insights from your community about the current state of compliance, the key challenges, and how we can work together to elevate compliance standards. How important is it for crypto companies to collaborate to improve and promote higher regulatory standards?
The answer here would come as no surprise, but at CryptoUK, we feel it is essential that there is a strongly evidenced collaboration across the crypto and digital assets sector. As a trade association representing close to 160 members currently, our main aim is to ensure that we help to 'cut through the noise' and present a balanced and consistent message to regulators and policymakers about how the industry wants to be perceived, regulated, nurtured and developed in the UK.
The biggest issue we continue to face with those in positions to shape the future of the sector is a full understanding of the diversity and requirements of the hugely differentiated operators in this space. By working collaboratively, we can ensure that the work we do to educate decision makers is clear, concise and consistent.
We by no means discourage any of our members, or the broader community to speak up, raise issues, concerns and recommendations directly – in fact we actively encourage this, but we believe the opportunities afforded to us in relation to making long-term and meaningful changes that benefit the sector are easier to achieve when we speak as one, unified voice.
How would you recommend global companies stay on top of different regulations across different geographies?
As a UK trade association, we work to ensure our members are kept up to speed with developments in the regulatory landscape both here in the UK and also in other jurisdictions. Our industry, by its very nature, is global and borderless so there is no possibility that changes to legislation and policy in other markets will not have an impact on many of the businesses operating in this space.
We partner with similar trade associations in other countries on the basis of knowledge sharing and proposed regulatory changes. There are multiple resources available to businesses to ensure they stay informed – whether that be through trade associations, relevant news sources, thought leadership outputs from SME's in regulation and events. It really is a case of immersing yourself in the opportunities to listen to speakers at conferences, subscribe to key content providers, use the resources available from trade associations and government bodies and build a strong network across the community to use this as a platform for knowledge sharing and support.
What keeps Crypto UK members awake at night?
In one word, uncertainty. Aside from the recent turmoil of the political and regulatory landscape the UK has experienced, there is a real concern across the sector that we are still no closer to achieving regulatory clarity and guidance.This reaches across all aspects of the organisations, from FCA applications and licences, to ongoing measures and controls that are required to maintain expected standards. There is no one governing set of policies that businesses can refer to and much of the work they do is based on applying industry best practices, common sense and trying to predict where future regulation may fall.
Add to this the ongoing debates around financial promotions and the restrictions on bringing new, innovative solutions and existing products to the UK consumer, whilst protecting those at risk of fraud and scams – I can see why there may be many sleepless nights had by our members.
Why do you believe the traditional financial community doesn't trust current compliance standards or processes of crypto platforms?
Because they don't understand them – it's that simple. The perception seems to be for many trad-fi players that there are less controls and measures in place when on-boarding clients, less checks around KYC/AML and that the whole industry works on anonymity. There is also a lack of understanding of the ability to track and return funds 'lost' as a result of fraudulent activity and scams as they believe these are untraceable.
As an industry, we see that whenever we showcase the capabilities of the Compliance functions and Analytics capabilities that our industry possesses there is a real 'eye opening' moment for many people to actually comprehend the granular level of information that is available and can be shared to support both industries.
We need a platform to better inform and educate which can only lead to opportunities to collaborate and find solutions that work across both sectors. The ultimate aim for all organisations, trad-fi or crypto is to mitigate risk – to the consumer and the organisation they represent – and ensure that bad players do not have the chance to compete or remain in the industry.
How would you recommend crypto platforms build better bridges with traditional finance?
As cliched as it sounds, communication is critical in trying to establish and maintain better relationships with trad-fi organisations. We recently wrote an article for CoinTelegraph listing the issues that UK crypto businesses have in terms of trying to access banking relationships and basic banking functionality here in the UK. In addition, the sweeping restrictions being placed on investors/ consumers when trying to transact from their bank accounts in crypto and digital assets.
We have many meaningful conversations with partner associations that represent traditional finance organisations, most prominently UK Finance, and have hosted several round table conversations bringing together both sectors to table the main issues and concerns and help to educate on the controls in place within crypto businesses to mitigate risk and provide detailed analytics to support recourse issues. These conversations, whilst on the whole positive, have been slow in bringing about any real solutions or appetite to change risk weightings by the traditional finance providers.
At CryptoUK, we believe that the only real way to bring about change and implement a better way of working across the two industries is through Government intervention and regulatory controls. Something we are pushing for through the work of the Crypto and Digital Assets APPG and also through our engagement with regulators and the broader industry. There doesn't appear to any jurisdiction that has got this right and balanced yet, so this is a real opportunity for the UK to showcase best practice models and become an aspirational market for crypto businesses in the future.
About Crypto UK
Launched in early 2018, CryptoUK is the UK's self-regulatory trade association representing the cryptoasset sector. Crypto UK members, comprising leading companies from across the sector, believe that cryptoassets can help enhance the way we undertake financial transactions, to the benefit of consumers, business and security. Together, we are working to help educate politicians and regulators about the cryptoasset industry, and to work with them in developing an appropriate operating framework for the UK.
How Crypto Platforms Can Win the Fiat Strategy Race
If you want to learn more about compliance in the role of building a holistic fiat strategy, check out our Ebook: How Crypto Platforms Can Win the Fiat Strategy Race. You'll learn how to…
1. Select your fiat strategy race car
2. The impact of a winning fiat strategy
3. Fiat strategy pitfalls to avoid on the race track and much more…