"Trust, but verify.": Bitstamp
Bitstamp is living out this crypto creed, a pioneering exchange in regulation and security, turning its model into Bitstamp-as-a-service for institutions to give their customers digital asset exposure. Join us as we talk to JB Graftieaux, CEO of Bitstamp, about obtaining trust the crypto way. Here are some highlights.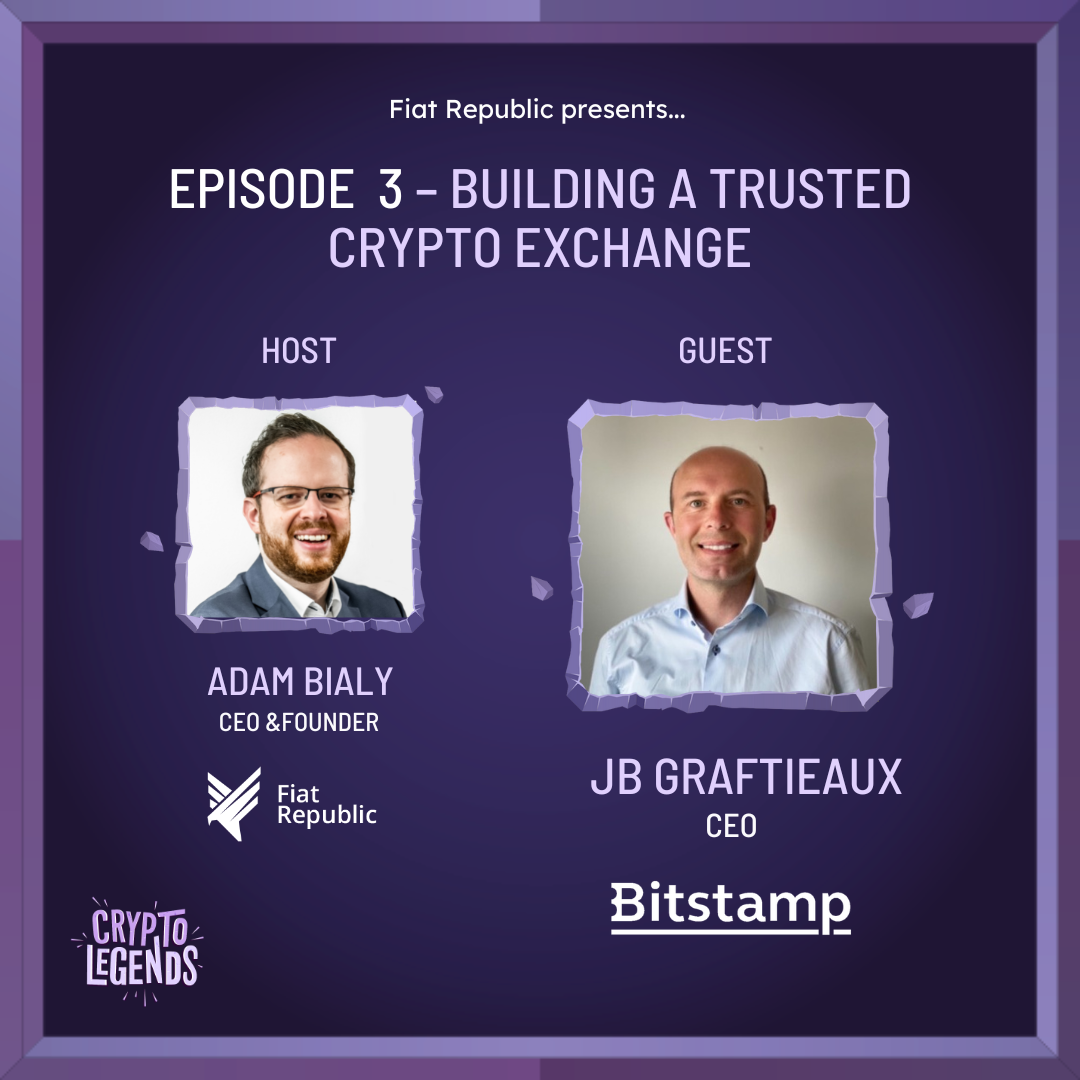 The Legend: Making a Footprint in the Jurassic Era of Crypto
JB joined Bitstamp as Chief Compliance Officer during the Jurassic era of crypto – in 2014, and Bitstamp is, in fact, the world's longest-running exchange – since 2011. Nonetheless, compliance and regulation have always been "the footprint of the company," said Graftieaux, which is why they urgently pursued European licensing, which they achieved in 2016.
When Graftieaux first joined, the exchange was operating with approximately 20m daily volume, with a total user base of about 20k. Today, that figure is 1bn in volume, 5m in users, and 600 employees across the globe. While Graftieaux left for a period, he's back with the recent appointment of Global Ceo. 
Why grow with compliance in mind?
Bitstamp, from the early days, wanted to be one of the first regulated exchanges – and was undoubtedly the first one in Europe. By creating a trusted environment, said Graftieaux, we are enabled "to attract more businesses as well as a whole class of clients [regulated institutions] looking for a highly regulated environment." The journey towards compliance globally is always ongoing, Graftieaux ended, and Bitstamp will continue to be active in that regard. A whole "one-third of the company [is] working in compliance, legal and risk," many of whom harken from more traditional financial and regulatory sectors – bringing that deep insight with them.
Current Battles: Earning the trust of Banks and Tradfi
On the flip side, another benefit is having the trust of banks. Trust enables a diversity of fiat payment rails, security from banking issues – debanking the worst among them – and, last but not least, the ability to expand currencies and locations with optionality due to a sound banking network. That network, in addition to a compliance-forward approach, is critical in the crypto industry  Bialy noted, for most issues are currently caused by antagonism and not speaking the same language between the two industries. 
Fixers at Fiat Republic
As our CEO has been communicating emphatically, the current dynamic between banks and crypto platforms is broken. Compliance is a big part of that. Your compliance operations are only as good as its weakest link. So long as your fiat rails are D.I.Y or BaaS, you will find yourself manually processing RFI's, having poor or complicated visibility on your flow, and risking your relationships with banks. Learn more about us here.
Other Episodes:

Have a story or want to make a suggestion?: Tell your story here