#IWD2023 Spotlight: Yield App's Anamaria Fuiorea
Happy International Women's Day! #IWD2023
To celebrate, we're putting the spotlight on members of Fiat Republic, as well as Anamaria Fuiorea from our partners over at Yield App.
Without further ado, here's Yieldapp's Head of Global Compliance, Anamaria Fuiorea. (This interview has been edited for clarity).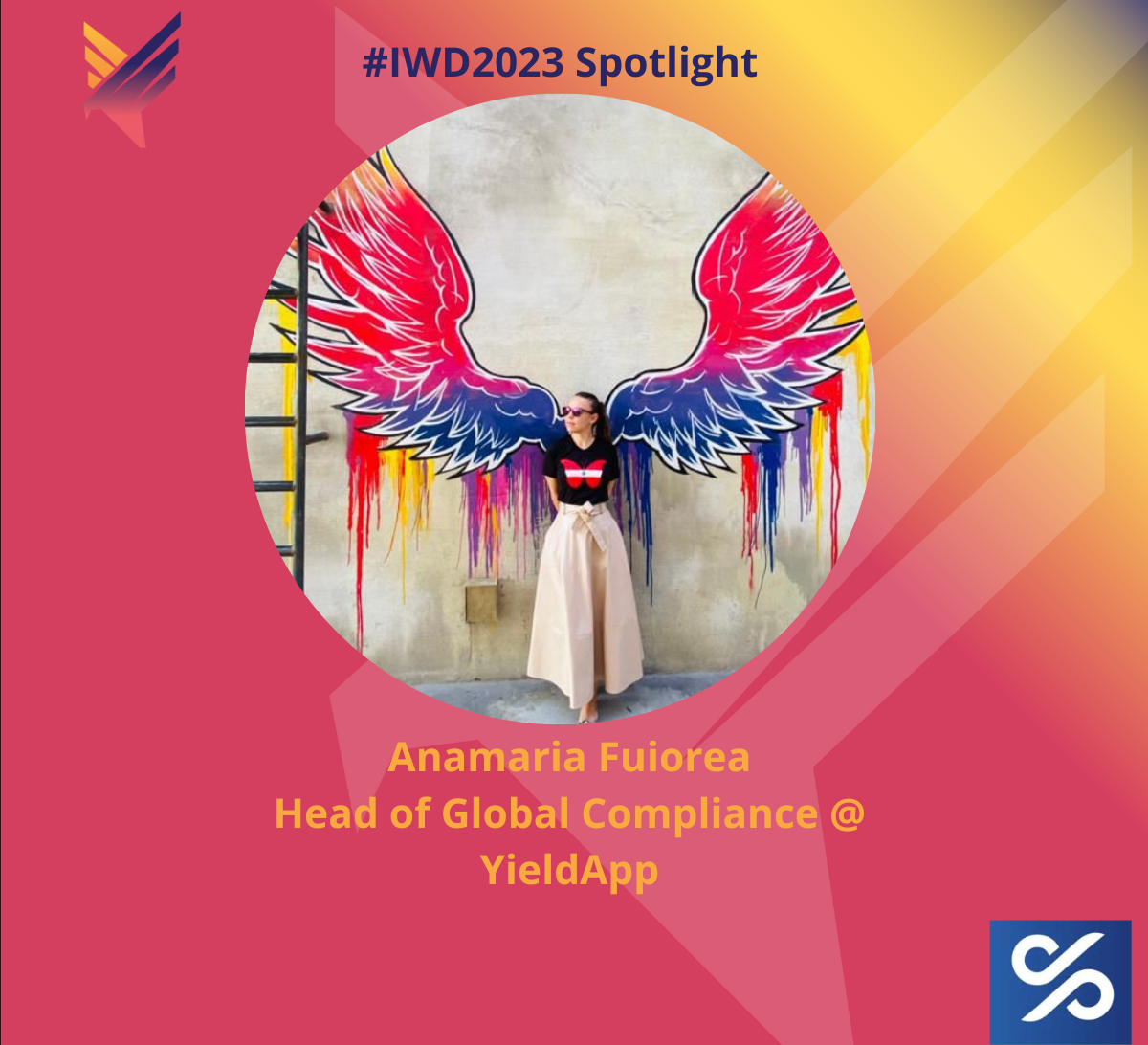 What are you passionate about?
I am a reader. I love immersing myself in other worlds, even though sometimes these are just new regulatory guidelines or legal commentary. Boring, I know. I am curious by nature, and I like discovering how things are intended to work. Another thing I love is travelling and meeting new people. I always make an effort to get to know the locals and try to have a conversation.
When you were a child, what did you want to be when you grew up?
Initially, I wanted to be a lawyer. Do you remember the series Kojak, with the serious and stern lawyer? That's who I wanted to be. Then, honing some of my creative skills in school and falling in love with chemistry, I wanted to be a doctor. But life had other plans, and I ended up working in compliance. It has the investigation, legal, and health check components, although in another sense.
Who inspires you?
Curious people. I love to see people curious about life, a field, an industry, people who seek everyday improvements and hidden meanings or different ways of doing things. People who are curious about themselves and their profession. People who have a hunger for knowledge.
Why did you choose this career path?
I was asked this question before. It's a looong story. The simple answer is that I love compliance and all its components. Compliance is a little bit more than just saying "no." It has so many elements and layers that sometimes I feel like I am deciphering a 3D Rubik's cube. I started in a controlling function, then moved into more operational roles until I reached a role that brought together all elements of compliance, and that is when I knew that's what I wanted to do with my life.
What is your favourite part of your job?
The innovation and creative part of a compliance function in the crypto world in 2023. I am lucky to live and work in an industry that is currently (in my lifetime, I mean) testing its boundaries and governance. I am excited to see how regulators and enforcement agencies handle the ever-expanding industry. It feeds my curiosity and allows me space to be creative, innovate, and find solutions that are not available or even possible in traditional finance.
What is the best piece of advice you've been given?
It's not necessarily advice, but it's something my dad used to say: "it doesn't matter what others are doing". This has stayed with me since childhood, and this has been an intrinsic motivation for me to carve my way in life, my career path, and the unique individual I am today (self pat on the back).
When making hard decisions, when do you listen to others, and when do you listen to your instinct?
I rarely listen to others. It's something I learned the hard way. I always listen to advice because it allows me to analyze a situation from all angles. But when deciding, I usually only listen to the voices in my head(joking).
Thanks for reading! Check out our remaining spotlight posts on Wednesday the 8th and Thursday the 9th.