Meet Karla Andryskowska, Fiat Republic's Q&A Engineer
With a background in information security, our next Eagle has passed many tests herself as Scrum Master and Customer's Support Manager and has now found her way kicking ass as our one true QA Specialist. Meet Karla Andryskowska, Fiat Republic's QA Engineer. Karla ensures that no task leaves the test environment without being up to par and that the Software Development Life Cycle process is on point.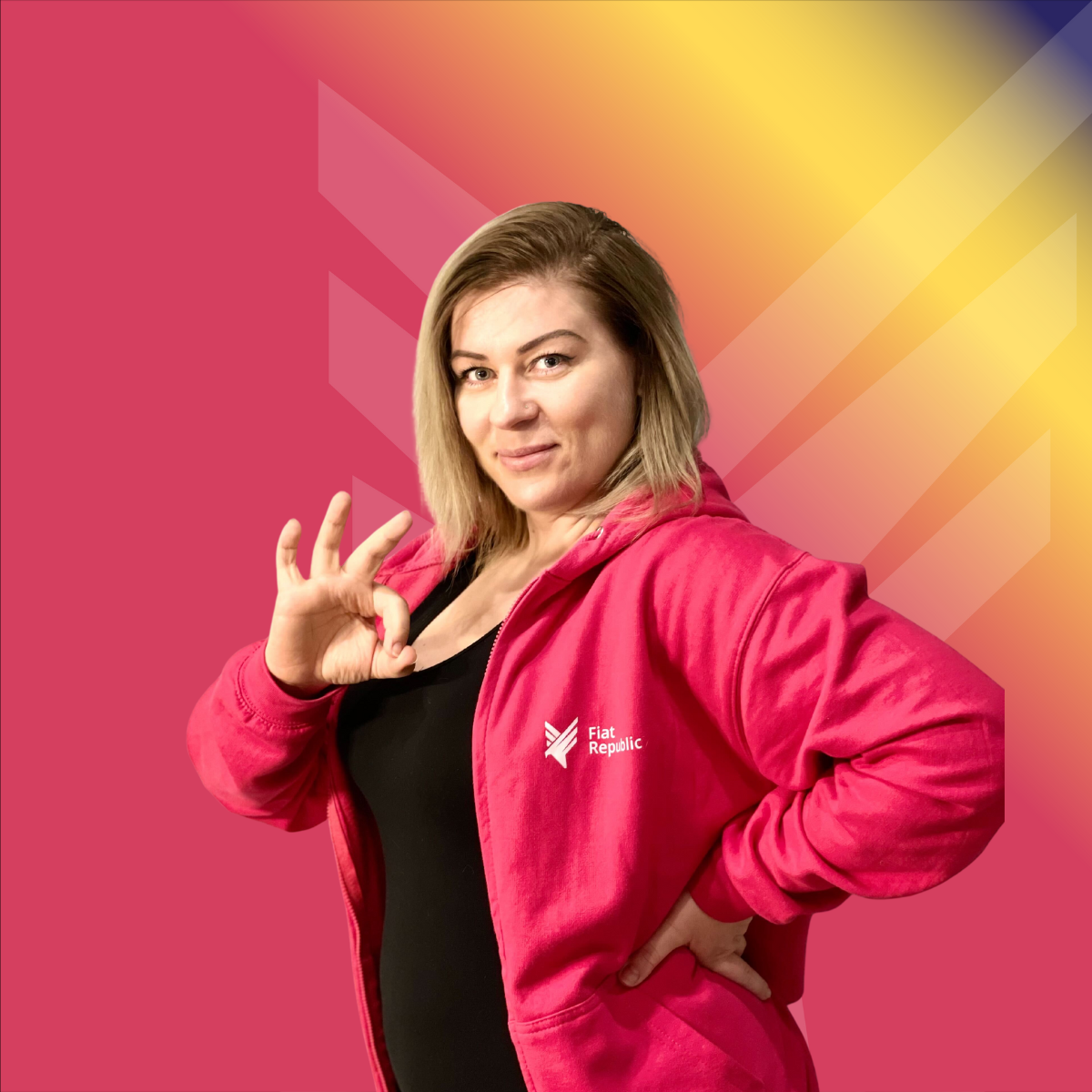 What was your onboarding experience like?
I did an assignment as a part of my recruitment process, but the emphasis from the get-go was on the team and culture fit. I was absolutely blown away by our CTO; Martyna's knowledge, broad perspective, and focus. She was super friendly, and we got along well, and it would be fair to say she was one of the main reasons I wanted to join so badly.
You often read about company values, but I can't state enough how true they are at Fiat Republic. We're kind, supportive, and diverse. And you can find that and so much more in every employee.
What would you say is the unique part about working here?
Tech and product marry so well at Fiat Republic. Martyna, Avinash, and Kuba form a stellar lead trio. They know each other very well, have a broad range of experiences, and have managed to create an agile, dynamic, and positive environment. When a new team member joins, it just clicks; that person fits into the tech-product puzzle perfectly.
Everyone at Fiat Republic has different experiences and ideas, which brings a dynamic you can't fabricate. We're always connected and work towards the same goals. We're a combination of sharp minds and brilliant souls.
What's your productivity trick?
I use a slightly modified Pomodoro technique which means I take regular breaks. The breaks can be longer or shorter, but the main goal is to stay hyper-focused when you're working on a task and properly rest your mind when you're taking a break.
What's a fun fact no one knows about you?
Once a year, I pick up a new hobby. I do woodworking and sewing, I've taken singing lessons, and I've done natural soaps. The list grows every year.
What is your team like and what have you learned about them?
We're a diverse and unique bunch. We trust, support, and help each other. And that is a testament to how intuitively and well Martyna, Avinash, and Kuba have built the teams.
They have tested our skills and ensured we're a good team fit; therefore, we're able to build at speed and deliver quality quickly.
What has been your biggest accomplishment on the team?
There's room to share my expertise and also learn from others. From a bigger perspective, I am allowed to learn something new constantly, which helps me to improve my work, and I'm also an enabler of that environment. Together as a tech team, we excel at our work and perfect our product which is beneficial for our customers.
On a personal note, when you become a parent, it's easy to forget that you can grow beyond that role. Working at Fiat Republic makes me feel proud and privileged daily as I'm allowed to grow, keep my brain in good shape and enjoy my work.
Who are you inspired by in the company and why?
Martyna, our CTO, is so inspiring. She's a true role model for women in tech, being bright, bold, and easygoing. I love working with Kuba, as he's patient and willing to explain any tech stack. Pawel O has the best energy, always a true friend, and someone who can resonate with anyone. Then we have Yevhenii and his brain, which is extraordinary – totally out of this world. But we are ALL amazing; everyone is fantastic in their own way.
What words best describe Fiat Republic?
I've been looking to work for a place like Fiat Republic for a long time, where vision and core values are not empty words. Fiat Republic supports diversity and personal growth.
I feel valued for my work; I am responsible for my actions and have the freedom to perfect and learn beyond my current skill set.
What would you say to a person considering becoming a part of Fiat Republic "Eagle"?
If you want to learn and develop with the best (and have fun along the way), you should join us. We're onto something amazing!
What are you working on right now?
Except for the regular QA work, currently, I'm working on a service desk and customer support services. I've previous experience developing support service tools, and I find it extremely interesting and rewarding to be a part of a team that builds these services from scratch.
What excites you most about Fiat Republic's journey and where it might lead us?
I can't wait to see who will join the team next and how our work together will evolve as we grow. I look forward to tackling and solving the challenge we have up ahead as a team; bridging banking and crypto. I believe we will impact the market, thanks to the team and the people behind this company and our product.
Paweł Owczarek, our Software Engineer, left you a question to answer; What excited you about Fiat public when you decided to join?
To go with the flow. Be courageous and bold and not question myself as much as I did when I was younger. When you doubt your abilities, you end up saying "no" to projects you want to do because you don't trust your instinct. I would encourage myself to try instead of overthinking.
You're leaving a question for the next Fiat Republic Eagle being interviewed. What would you like to know?
If you could trade one of your current skills for any other, what would it be?

Our People @ FR series invites you to meet some of our Eagles worldwide. We are incredibly proud and humbled that we have an epic team of vibrant, fun-loving, and sharp people at Fiat Republic. Discover what they love about their jobs, how they've grown their careers, what challenges they face, and how we are collectively bridging the gap between banks and crypto. If you're interested in joining our flock, this is a fantastic opportunity to learn about our culture, people, and how we work!